Lost Ark: Chaos Dungeons - Guide, Rewards, and Optimization
Lsot Akr
Date: Jun/18/22 15:57:31
Views: 593
Accessible from level 50, Chaos Dungeons are the most critical content in Lost Ark. Indeed, these multi-story dungeons make it easy to collect rewards, and some optimizations will allow you to take full advantage of them.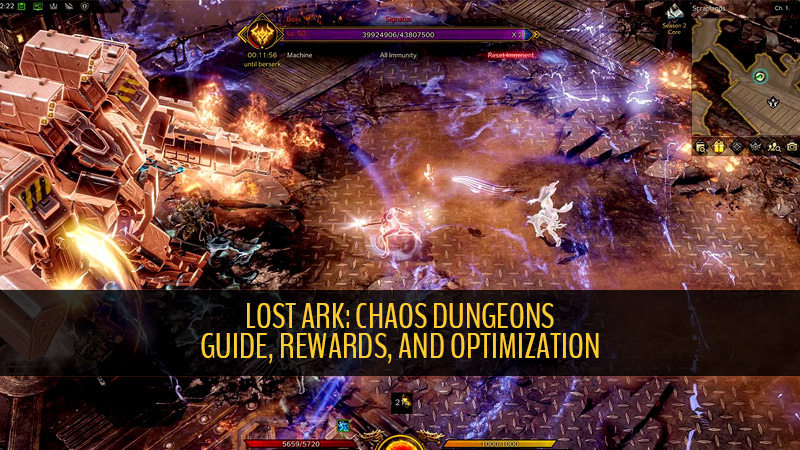 The chaos dungeons are accessible from level 50 and allow you to recover equipment, improvement materials, and tickets for the cube or the abyss dungeons. Chaos dungeons finish in about ten minutes.
The chaos dungeons will allow you to recover equipment at each level and provide many improvement materials. With luck, you may even land in a secret room that will enable you to collect some Lost Ark gold coins! We explain everything to you in the rest of the article.
What is a Chaos Dungeon?
Chaos Dungeons form a multi-story arena in which you will have to fend off waves of enemies. These dungeons only have three very different floors, even if luck can lead you to visit the 4th floor. In the latter, you will have to eliminate a harmless monster to recover a significant amount of gold.
To enter Chaos Dungeons, you must meet the following conditions:
Reach at least level 50
Have completed the access quests, which can be found in Bern-Nord: Elayn's Request
Reach at least item level 250
If you want to get the total rewards, you need to have at least 50 Resonance Energy.
Enter alone or compose a group of up to 4 players
To progress through the floors, you will need to fill a progress bar, which you will need to bring to 100%. You have 5 minutes to complete each floor, so don't waste time! Some foundations only end if you kill a boss or a required number of monsters.
The different floors of Chaos Dungeons
The different levels of Chaos Dungeons differ depending on the city and the level of equipment required. If you take part in a dungeon in Felton, the monsters and locations will not be the same as in Punika. However, the content type of each floor is always the same.
Floor 1 :
The first floor pits you against several waves of normal monsters, which more or less serve as a warm-up round. To best optimize your chaos dungeons, leave this floor when your completion percentage reaches 17%.
Floor 2 :
The second floor is the toughest since you will have to face six mini-bosses and one boss in addition to the waves of traditional monsters. The most optimized way to complete this floor and kill all six mini-bosses, then kill normal mobs until the final boss spawns. Kill the latter and take the portal that will appear.
Tips: By killing the last boss of the second floor, you will have a chance to get a ticket for the cube and one of the dungeons of the abyss of your level.
Bonus floor (low spawn rate) :
With any luck, you'll land on a hidden floor containing only one monster trying to flee. After a few hits, the latter will drop silver and gold coins. A little significant bonus!
Floor 3 :
The top floor will again pit you against waves of normal monsters, spawning giant crystals. By destroying these crystals, you will generate new waves of monsters, as well as a mini-boss. The goal is to kill the monsters until you reach 99%.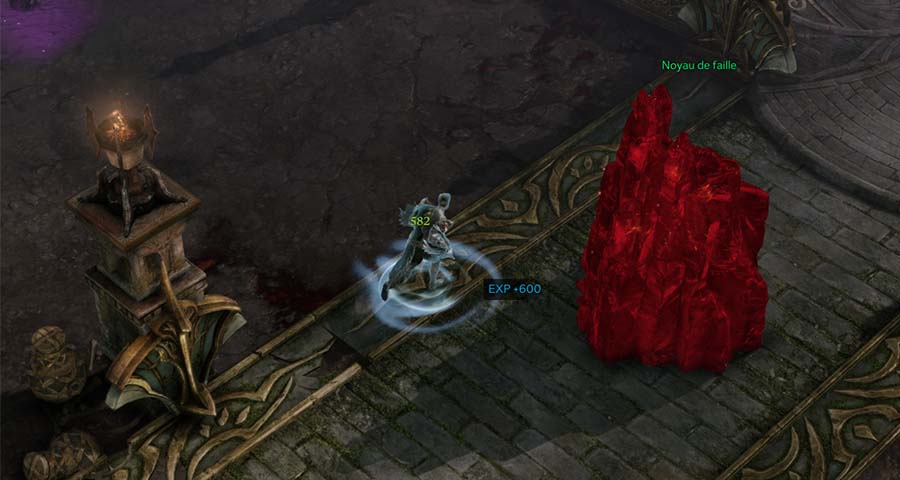 Once this percentage is reached, pack all the remaining monsters, and use an attack to kill them ALL AT THE SAME TIME. Indeed, the chaos dungeon will stop the instant you reach 100%, but if you kill all the remaining monsters simultaneously, you get between 3 and 5% more rewards.
Chaos Dungeon Rewards
The chaos dungeons will allow you, in particular, to recover improvement materials and equipment, and accessories from your level. You can also collect entry tickets allowing access to the various contents, such as the cube or the dungeons of the abyss.
Tips: Rewards can only be collected during the first two Chaos Dungeons of the day. If you don't log in daily, a recovery system will allow you to catch up on some missed resources.
Here is a table grouping the list of rewards according to your level:
Level – Tier
City – Floor
Awards
1
Bern North / Rohendel
Destruction
Stone Fragments Guardian Stone
Fragments Harmony Fragments Harmonious
Leap Stones
Crystal of Disorder
Perception Fragment
Admission Ticket: Cube
Ability Gems (epic– Bern-Nord )
Ability Gems (legendary–Rohendel _ )
Equipment (250 –rare)
Engraving Recipes (rare–unusual)
Accessories (250rare : Level 1 – Bern-Nord)
Accessories (340epic: Level 2.3 – Bern-Nord)
Accessories (420legendary : Level 4 – Bern-Nord, Level 1,2,3,4 Rohendel)
Silver Gold

2
Yorn/Feiton
Destruction
Stones Guardian Stones
Life Shards Vital Leap Stones Crystal of ScornGuardianShard Entry Ticket:EliteTicket: Path of SilenceAbility Gems (





rare : Floor 1,2 – Yorn)
Ability Gems (epic: Floor 3,4 – Yorn , Level 1,2,3,4 Feiton )
Equipments (600 –rare)
Engraving Recipes (rare–epic)
Accessories (600rare : Level 1 – Yorn)
Accessories (840epic: Level 2.3 – Yorn )
Accessories (920legendary : Level 4: Yorn, Level 1,2,3,4 Feiton)
Silver Gold

3
Punika – Star
Destruction Stone
Crystals Guardian Stone Crystals
Honor Fragments Honorable Leap Stones Purification CrystalNostalgia FragmentDimensionCube AdmissionTicket: Path of the SunAbility Gems (





rare)
Equipment (1,302 –rare)
Engraving Recipes (legendary–epic)
Accessories (1,100rare)
Silver Gold

3
Punika – Moon
Accessories, equipment and skill gems change:

Skill gems (epic)
Equipment (1,302 –epic)
Accessories (1,325epic)
3
Punika – Sun
Accessories, equipment and skill gems change:

Skill gems (legendary )
Equipment (1,302 –legendary )
Accessories (1,370legendary )